Theater's Last Play Of The Year: Peter/Wendy
Cypress High's Theater is performing their last play of the year, Peter/Wendy, a play by Jeremy Bloom, on April 28 and 29 at 6:00 p.m. While their previous show Almost, Maine featured all cast members as leads, Peter/Wendy is a lead-driven play, meaning there are a set of main characters as well as side characters. The main roles are Peter Pan played by Julian Aispuro, Wendy played by Emily Anesi, Tinker Bell played by Emily Murray, Tiger Lily played by Katrina Chandrashekhar Sonwane, and Captain Hook played by La Muir Metoyer. The play is scheduled to premiere during the last week of April.
Ali Tompkins (11), the artistic director, described the play as "a darker version of Peter Pan." The last play was a vignette style, meaning there were different parts of the play that tie into each other. Tompkins's challenge is trying to fit all the needed scenes into limited stage time. She's looking forward to opening night, when the house lights are down and the ambiance of the theater is unmatched.
Miranda Chen (11) is the co-director of choreography, in charge of many dance and fight scenes. "Thematically, it's about a return to childhood, with tensions between wanting to stay a kid forever and having to grow up," she shared. Chen is excited to choreograph and direct a dance between Peter Pan and Tiger Lily, the love interests of the play. She feels proud of Cypress's theater class, saying "Everybody is working really hard on it and challenging themselves." She loves that theater isn't just about acting; "That's the spirit of theater, you can do anything," she said. "From acting to directing, everyone thrives in this space."
Kaylah Choi (9), the director of Peter/Wendy, is in charge of helping Ms. Stewart with blocking and fixing mistakes that look unusual on stage. Something challenging for her as a director is pin-pointing what the problem is. "Sometimes I'll think that it looks fine, but Ms. Stewart points out something is wrong," Choi said. She hopes that the audience will like this play even better than the last, though she worries that they may be underprepared. She said, "It's a fun play, and everyone is working very hard and it's fun to see how we work all together."
Zan Qureshi's (10) duty as stage manager is to organize the stage and props, as well as being in charge of opening and closing the curtains. "Since it's the last play of the year, I'm hoping this'll be better than the last one," he said.
One of the star roles of the play, Peter Pan, will be played by Julian Aispuro (12). According to him, the whole point of Peter Pan is that he's a kid who never wants to grow up. Aispuro's goal is to make everyone laugh as much as the last show. This is his first play as a lead after being voted to play Peter Pan. "I want to make them laugh, give them just as much laugh as the last show," Aispuro said. On opening night, he ad-libbed a lot of lines that gave the audience a chuckle.
The iconic Wendy Darling is played by Emily Anesi (11), who wasn't expecting this role at all. "I was actually expecting Katrina's role as Tiger Lily, and she was expecting mine," she added. It's challenging for her to portray a character that's different from her natural personality. Despite these worries, Anesi's acting was really touching and fit for Wendy, and she even sang an emotional number at the end.
Tiger Lily is Peter Pan's love interest, played by Katrina Chandrashekhar Sonwane (11). In the original story of Peter Pan, Tiger Lily is an indigenous character with some racial stereotypes, but these harmful stereotypes have been omitted in this play to embrace the more "flowery part" of Tiger Lily, according to Sonwane. She hopes to make the crowd happy and recreate theater magic. "There's something magical about becoming a different character and being able to step in a role as fun and cool as Tiger Lily," Sonwane shared.
The whimsical character of Tinkerbell is played by Emily Murray (10). Tinkerbell's character is represented by a glowing globe, and Murray's role is to fly around holding it and ringing a bell. She finds it challenging to hold both globe and bell at once while moving around the stage. Murray is both excited and nervous about her role in the play, calling it "a mixture of 'Oh my gosh I'm so excited' and 'What if I let everyone down.'"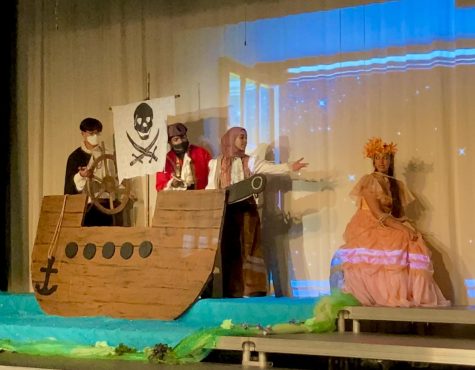 The antagonist of the play, Captain Hook, is played by La Muir Metoyer (11). He expressed having trouble getting into character, since it's a different role than the characters he's played in the past. "I've never imagined myself playing Captain Hook, and there's not one way to play him," Metoyer said. His goal is to really bring the character to life, and looks forward to seeing how the audience reacts to such a legendary character. Despite initially having concerns about portraying Captain Hook's accent, he really brought out Hook's evilness with his stage presence on opening night.
Peter/Wendy runs on April 28 and 29. Tickets are on sale for $5, and you can buy them in advance or at the door. Every cast member is working hard and putting their best effort into making this play enjoyable and entertaining. The acting was immersive and the fight scenes were super entertaining. Be sure to buy those tickets, you don't want to miss out on another great show!