Senior Luau Kicks Off Return To Campus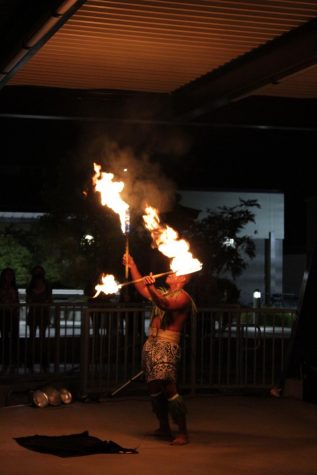 On September 8, 2021, Cypress High's class of 2022 kicked off the school year with their Senior Luau.  Students had the opportunity to take pictures, enjoy delicious food and experience an exotic show featuring dances from a number of cultures along with live music in the quad.  The luau was the first big event on campus since returning from online school, and ASB put hard work into making it a night to remember.  
Students enjoyed showing off their festive Hawaiian attire, the most popular being the sarong.  They crowded the photo booth as the photographer worked hard to hand out everyone's photos.  Food lines also overflowed with hungry guests whose favorite food seemed to be the shaved ice.  Many students were even disappointed to find out they weren't able to go back for more.
ASB president, Joey Hannifin, expressed that he was very impressed with how the luau turned out, and how all of ASB's hard work really paid off.  After being online for so long, he feels the events are "better than ever."  He stated, "It's really cool to finally be with everybody in person," rather than doing virtual events.  Hannifin explained that while the planning was a bit "tedious," he's been pleasantly surprised with the way events are turning out.
The highlight of the evening was the entertainment, where dancers and musicians transported the crowd to an authentic Hawaiian luau, showing off traditional Hawaiian dances and even let student volunteers give it a try.  Students surrounded the stage as soon as the musicians began playing.  The crowd was most impressed by the fire dancer, and for the grand finale, special guest, Mr. Pfeiffer, blew the guests away by learning how to perform a Hawaiian dance himself.  At the conclusion of the event, administration and security were needed to escort students out to the parking lot, as they weren't ready for the night to end.