Covid-19 Won't Silence Our Musicians
With the pandemic shutting down in-person learning at schools, teachers had to work extra hard to improvise a whole new curriculum for online schooling while taking into account their students' mental health and personal struggles. This was especially difficult for teachers whose classes are based solely on physical presence, like instrumental music and choir. Regardless of how difficult such a vast transition is, our band and choir teachers at Cypress High School, Mr. James Quirion and Mr. Jonathan Ulrich, did a phenomenal job at balancing all the underlying struggles while creating a safe, encouraging, and progressive space for students.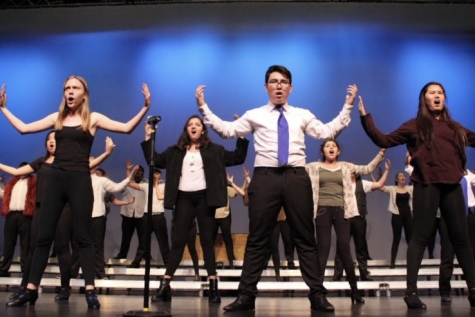 Band Director, Mr. Quirion, who serves as the Visual and Performing Arts department chair, has been teaching at Cypress since 1999. Quirion said that "the students" are his favorite aspect of working at Cypress. Being an elective teacher, Quirion has the opportunity to teach students for up to four years. This creates the opportunity for a real connection between him and his students that they all deeply value. The diversity of Quirion's students has taught him about different perspectives and ways of life that he finds very beneficial. As an educator, he has learned empathy and listening. Unfortunately, when the Covid-19 pandemic hit, a lot of the connections and valuable teachings Mr. Quirion's Band class normally provides receded. Fortunately, along with the adversities that virtual learning posed for band, the advantages, development, and channeling of individual creativity arose. 
The pandemic introduced a physical, mental, and emotional quarantine on us all. This is what Quirion was most concerned about when having to develop a whole new curriculum for his students. The most challenging part of virtual teaching to Mr. Quirion is not being able to see how his students are doing with their mental health. Because of this, Quirion focused on providing a stress-free space for his students, while advising them to create individual content. He decided that offering his class as a check-in for students would be beneficial for their mental health and stress load. "That was the best way I thought I could be effective. To help the students both with their workload and mental health while they also continue to learn music," he said.
This year, Quirion provided his students with the chance to focus on themselves as individuals and channel their personal creativity. Being in high school constantly surrounded by a large body of people, students don't often get the chance to get in touch with themselves and express their own thoughts and ideas. This is what Quirion's virtual class provided for his students, the freedom to produce with their own creativity. 
Just as Quirion used this virtual time to his band's advantage, so did Mr. Jonathan Ulrich. Ulrich joined Cypress in the fall of 2019 as the Director of Cypress High Centurion Choirs. At CHS, Mr. Ulrich admires the commendable qualities his students and coworkers hold. Because of the safety measures that were put in place, such as social distancing and limited heavy exhalation around other people, a lot of what choir does couldn't be executed normally.  He honors how hard his students work to make the choir the best it can be.  "I always look forward to hearing my students sing as a team and listen to them progress and get better at their art. Those are the things that I miss more than anything else," he said.
Ulrich and his students had to reinvent their choir class. He decided that this time could be used to discuss with his students what and how they want to learn. They have all found expressing their thoughts beneficial for their choir class. A lot of time in school was spent on practicing and singing so they took advantage of this time that they have to grow and share their ideas with one another.  
Quirion says, " A pandemic doesn't leave anyone unscathed." Luckily, Quirion and Ulrich used their all to prioritize their students' ideas. Our Band and Choir directors at Cypress High School successfully induced positive outcomes within their classes as well as their students.