Meet the Players: Boy's Volleyball
Cypress High School's Boys Volleyball team is a Division 2 team practicing hard early in the morning and staying late after school. The season started on March 2 against Saint Anthony with a hard-earned win by both Varsity and Junior Varsity of (2-1) and (3-0.) Each player is working hard to add another CIF win to Cypress history this year. Every position is tediously training every chance that they get putting in reps on reps and drills on drills. But, no matter how hard you train, the sport nearly entirely relies on communication. Who are the players this year? What is so important about bonding with your teammates?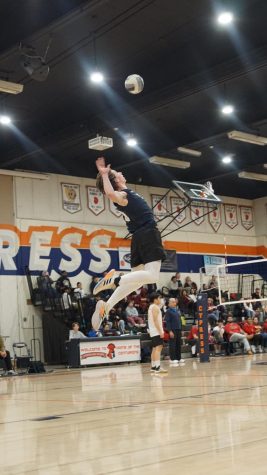 Senior Mickey Kadowaki III, outside hitter on the Varsity Boys Volleyball team, finds that his fourth and final year playing for Cypress High is "sad because it's my last year playing with all of these guys and the bond that I've built with a lot of the guys, it's hard to let go. But, it's exciting because it's a new start, and a new season to go further than last year."  Though the feeling of the end of the year is bittersweet, the team must focus on bonding and communicating to make a push for the California Interscholastic Federation (CIF) finals. Well, what is really so great about the CIF's? "I really want to win CIF's." says Jaiden Ramos, Freshman libero on the JV team. "Getting a really good achievement like that would really boost my motivation even more." Freshman Leon Kim, outside hitter on the Frosh team, is entering his first year playing for Cypress with confidence and lots of motivation. "Something that motivates me is knowing that the people who want to see me fail is already below me."
What is an outside hitter? Hence the name outside hitter, this position is one of the many that hit the ball into the other team's court. These players are essentially placed on the front left side of the court. Outside hitters such as Joshua Nguyen, sophomore on the JV volleyball team, and Trace Oswald, Senior on the varsity volleyball team enjoy everything about hitting. Nguyen and Oswald agree that hitting is "really fun." Oswald also finds that "hitting people in the face" is entertaining because it "brings him joy."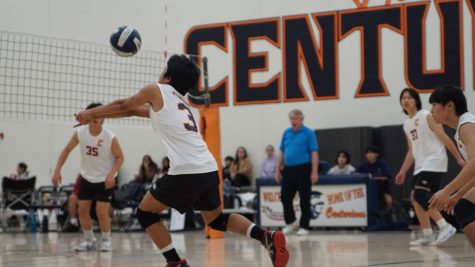 What is a libero? A libero is the position that wears a different colored jersey on the court because they have a few different rules than other positions."The libero's job is to talk to everyone on defense, and make sure that everyone knows what they're doing." Ramos explains. "They're like a team captain, but back row. Also, I get to boss people around." 
The boys volleyball team are hard workers and enjoy working with one another to bring home another win. The players are doing great so far and we will continue to cheer them on to victory.