Tennis Tries To Dominate the Courts Again
The Cypress High School's girl's tennis team is off to a competitive start. On October 4, 2022, varsity defeated Pacifica 13-5  and JV won their match with a score of 18-0, continuing their undefeated streak. They know preparation to win at anything begins with the warmup.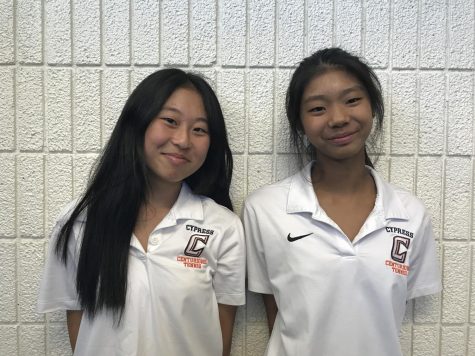 Lizzie Cruz is a junior on the varsity tennis team. She started tennis when she was four years old and started playing consistently from age ten. "I started playing because my parents wanted me to play a sport and my uncle could teach me," she said. Her support group is her family and friends who always cheer her on. When Cruz plays a game, she feels tense but chews gum to calm her nerves. "The hardest team we've played against would be Valencia High School because they are our long-time rivals," she said. Her favorite part about tennis is the team bonding at the beach and the level of competition in the matches. 
Amberly Chaimongkolmanee is a sophomore captain in the JV girl's tennis team and plays in doubles four. She started tennis four years ago because her friends encouraged her to play. Something she struggles with is the lack of time for homework after games. Therefore, it gets harder for her to make up for the tests and figure out how to catch up. However, she said, "It's worth it because I like that I can interact and play with people on the court." She is hoping to improve her serves by practicing and taking private lessons.  
Jina Song is also a sophomore captain of the JV girl's tennis team and she noticed that the new freshmen were skilled players. Song started playing tennis in the summer before seventh grade and her position is doubles two. She said, "Being a doubles starter is fun and even though I get pressured to do well, I think it pushes the adrenaline." 
One change from last year is that the team traveled all together before, but this year, only those who are competing that day travel. As a result, Song misses bonding with the team and encouraging them every step of the way. Chaimongkolmanee and Song agree that the most challenging school to play against was Sage Hill because many of the players on the team were injured on that day and were hard to replace. Learning new techniques after playing with other schools is a key part of winning and growing. 
Coach Joe Paul said, "We're doing really well with a score of 10-4. We started out and developed as a team. The new players are ready to mark their spot and step into our league." 
The team motto is, "If you are always giving your best you can never expect more." So far, this saying has proven to be successful.