Mrs. Durkin Handles It All
New Asst. Principal Durkin Makes the Move From Counselor to Administration
By Katerina Portela
Staff Writer
During a complete revamp in the school administration, Cypress High gained a wonderful new assistant principal, Mrs. Mary Jo Durkin. The role of an administrator is not an easy one, yet she managed to handle it all: virtual classes, disgruntled parents, and cancelled school events.
Born and raised in Southern California, Durkin is a native of Orange County and received her degree from Cal State Fullerton. She describes California as her "true home" and despite loving to travel, she feels most comfortable here in the Golden State.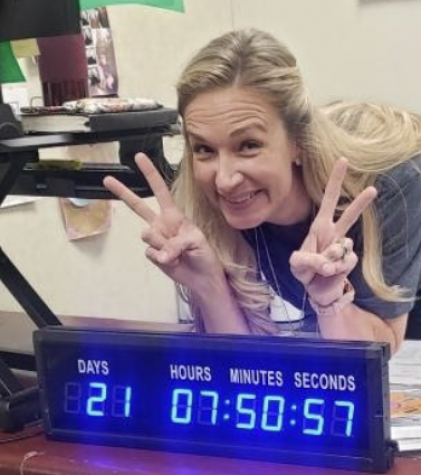 Although she may be a newbie at Cypress High, Durkin is not new to working with students. "I've been in education for 18 years now," reported Durkin. "I was a school counselor for 17 years before this. Prior to that, I worked in a group home for abused and neglected kids." Surprisingly, she didn't always see herself working in a school. "I actually wanted to be a clinical psychologist focusing on adolescence…" Her experience with the children in the group home led her to see the importance of mental health in students and how their home life can have a powerful influence on their future.
Despite the time Durkin spent with these children, the heavy subjects she was dealing with regularly made her eventually decide to move into a different profession. She began a new path in school counseling at Katella and Loara high schools, which she says helped her to learn more about the education system. Moving on to administration was a big step in her career, but one that she felt was right for her.
For this "virtual year," Durkin's communications are mostly through email and from behind the fixed image of her profile picture. Cypress students have not had much of an opportunity to become familiar with her as a result: "I know and realize it'll be completely different next year once students are on campus. I can't wait to interact with students instead of just being this random name on the screen," Durkin said excitedly. As a former counselor, Durkin puts great value into human connection and one-on-one conversation.
In her new position, Durkin still deals with students and parents, yet she has discovered that it comes along with the added responsibility of reaching out to teachers. "I've learned a lot: mostly because an extra layer of my role as administrator has been evaluating teachers. . .I've never evaluated anyone before as a counselor," she recalled. "I really learned how to work with teachers—virtually— and it's really hard when they don't know you and you don't have a relationship. It actually worked better than I ever imagined. Once you can build that relationship, you can better discuss the areas of growth for each person." She makes it clear that the role of administration is much more than the discipline that students see: Durkin, along with the other assistant principals and Dr. Hodgson, takes on the job of bettering the school as a whole and moving forward every year.
"The plan is: how do we build something so that when we come back to school, we don't do what Cypress has always done…how can we make it better?" – Mrs. Durkin
To manage her responsibility, Durkin says that she is "okay with being vulnerable, and being okay with asking for help. If you try to do something by yourself, you're going to fall apart." Not only does she receive help from her superiors, but also from fellow administrators.
Durkin was not the only new assistant principal to join Cypress this year: Mr. Sean Pfeiffer became a part of the Cypress administrative staff as well. Having experience in administration at his previous school, Pfieffer has excelled in his duties.
Durkin describes forming a bond with Pfieffer, who was very supportive in helping her to become adjusted to administrative work. "Mr. Pfeiffer: he keeps me on my toes. He is so full of energy and he's been a sounding board for me." While also being a form of guidance for Durkin, he is also a trustworthy friend: "For example, someone threw out my box for AP testing materials I need to return. I needed it, so I said, 'okay, I gotta go out dumpster diving.' He came out with me and jumped in the dumpster to look for it. That's a great example of the companionship we have. I didn't ask him to do that: he just did it. So, I appreciate that."
For the future, Durkin says that she plans to stay assistant principal for a while. Her hope for the future and ability to learn from and communicate with staff and students makes her a valuable addition to administration. Cypress High School is lucky to welcome Mrs. Durkin as our newest assistant principal, and we wish her the best of luck in her coming years at the school!