Vaccine Administration Beginning in Orange County
Former CHS Counselor Sallie Coltrin Describes Her Vaccine Experience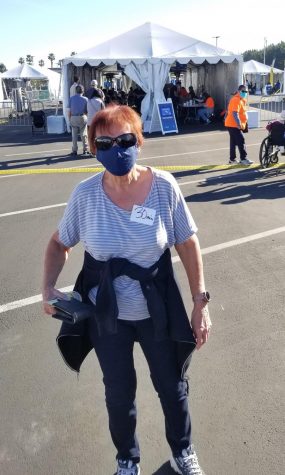 Vaccine Being Rolled Out in Orange County
by Ramya Sridhar
Editor-in-Chief
Sallie Coltrin is an 80-year-old Orange Country resident who recently received the COVID-19 vaccine using the Othena.com platform. At the time, there was only the Othena website and not the application, so Coltrin took the advice of a colleague and decided to book an appointment through the website. She ended up having to fill out many forms pertaining to her demographic and location, until she was successfully registered in the database. However, upon registering, she encountered a very familiar problem. "I tried to get an appointment, and right at that point, I couldn't get one," narrated Coltrin, "but I just kept trying, for maybe 15 minutes. All of a sudden, it popped up." Once successfully opened, Coltrin was given three potential days to book the appointment–the day of, which was a Wednesday, the following day, Thursday, or Friday. Her appointment was located at the Toy Story parking lot at Disneyland.
Coltrin was one of the few who discovered the Othena website before it became popularized. "When I found about it, it hadn't even been announced on TV." As a result, she was able to book her appointment and receive the vaccine in a more comfortable and convenient process than those who are attempting to do the same today. The reality of the Othena website today is as disappointing as it is infuriating–the inefficient sorting of user demographics as they relate to the COVID-19 virus, the frequently crashing server that is used, and the overwhelming customer dissatisfaction and negligence makes this website an extremely inefficient and unreliable source of safety. "It's hard for the regular person to get an appointment," Coltrin states, "That is the biggest complaint. The apps weren't even working right for a period of time…But again, we come back to the question of being technologically challenged. There are still people asking 'how do you register?' They don't even know about this Othena."
Coltrin's points are very valid. The main demographic that requires the vaccine is an older population, who tend to not be as technologically inclined. However, the system of vaccines has been created so that tech-savvy applicants are the first recipients of the vaccine, and the tech-savvy demographic is mainly youngsters.
The vaccine is very important in this battle against the pandemic that has ravaged our country and our world. But, in another sense, it is also important in providing peace of mind for many of the suffering individuals across the country. "I haven't let my guard down, but inside, I think I do feel a little bit better," Coltrin admits. The release of the vaccine has given new hope to the people, hope that the government must find ways to make real.