Get the Scoop On Graduation: An Interview With Dr. Hodgson
Graduation Will Be At Handel Stadium Wed. 5/26 at 6pm.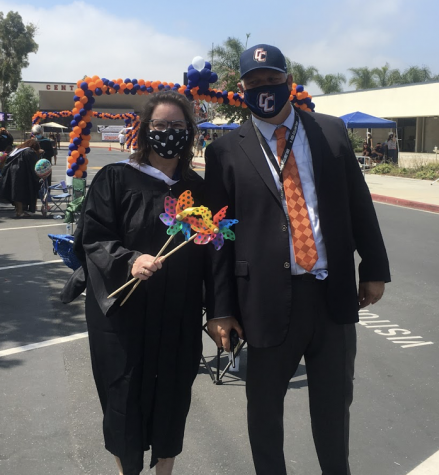 This past month, Cypress students were confronted by bittersweet news: school was to remain virtual for the remainder of the year, yet they would have the chance to walk in an in-person, full-class graduation. With the decision to keep school online and bring back graduation comes doubt and questions from students and parents alike, all of which we discussed with Cypress High School's principal, Dr. Hodgson. 
According to Hodgson, the board meeting that decided the fate of online school was nearly unanimous. "The decision to come back is all left up to the Board. This recent decision was a 4-1 vote where the majority voted to stay online. However they do listen to the public opinion and district administration input," he explained. "The decision is to remain in this setting for the entire school year, so the possibility of this being revisited is unlikely." As for graduation, students and teachers alike were mostly rooting for the same goal: a chance to end the year in a satisfying, traditional way. Hodgson was more than pleased when he heard the board's decision, "I was super happy to hear seniors would be getting a graduation. I wanted it for you guys as much as everyone else and it's exciting to see that you'll actually be getting one." The most common questions students asked were about graduation guidelines and upcoming "pods." One concern among the student body was whether the event would be split into two groups or in one single event. "Our graduation will be held with one ceremony," he answered, "it will not be split, either at Glover or Handel Stadium." Graduation guidelines are projected to loosen if Orange County moves down another tier, as it is predicted to do. More family members may be allowed to attend the ceremony as restrictions lessen, but based on trends of other schools the expected amount of tickets would be two per student.
 Many students don't realize that the staff is usually on the same page as they are: when it came to making plans during the lockdown, details have always been unpredictable. "This year has obviously been interesting. I thought we'd have been in hybrid by now so I understand and I've been on this roller coaster along with you guys. In some ways, I've had more one-on-one interactions with students now than I have before, compared to surface level greetings at lunch, but I definitely did not expect to still be in an online setting in March."
 As more and more students and teachers get vaccinated, opportunities open up. Hodgson brought up the new "pods system," which will be available this April for small groups to get together on campus and do one-on-one learning. "Pods are a new system being introduced for the school year. The main goal is to help students who are struggling with grades or mental health or need English language support. It is possible for a teacher to host a study group for a specific subject with a limited amount of students," Hodgson revealed. 
After so much turmoil during this year's pandemic, Cypress' seniors finally are getting the happy ending they deserve. In-person graduation following an entire year online is a priority for Cypress staff, and with the declining number of COVID-19 cases per day, we are fortunate to host a graduation for the class of 2021. In addition to a full graduation, Cypress is allowing for small "pod" meetings and sports to continue. Opportunities are opening up for students as vaccinations rise and COVID-19 cases plummet: every day we move closer to the light at the end of the tunnel.