The Israeli occupation of Palestine traces back to 1948 when the Balfour Declaration of 1917 pledged support for a Jewish national home in Palestine. This historical context is essential to understanding the plight of Palestinians today. For over 75 years, Palestinians have endured displacement, restricted movement, apartheid, and harsh conditions.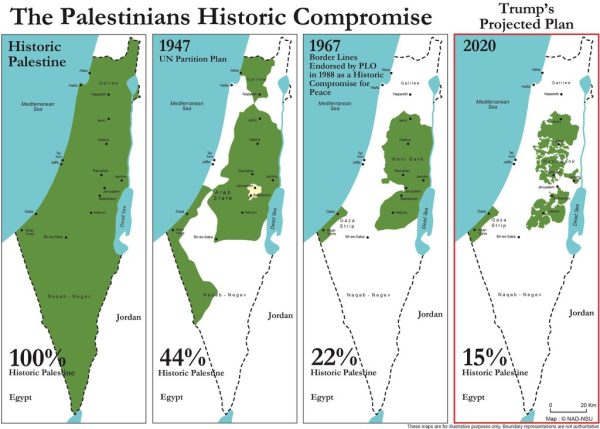 The term "apartheid" describes the segregation and discrimination they face in their own land, which is marked by numerous Israeli checkpoints. Despite countless peaceful attempts, oppression persists, leading to further land loss and human suffering. It's important to note that Hamas, often a focus of international attention, emerged as a response to active resistance against this enduring injustice.
Before 1948, Jews, Muslims, and Christians all lived together peacefully in Palestine. Palestinians welcomed Jewish immigrants after witnessing the horrific treatment inflicted upon them by the Nazi regime.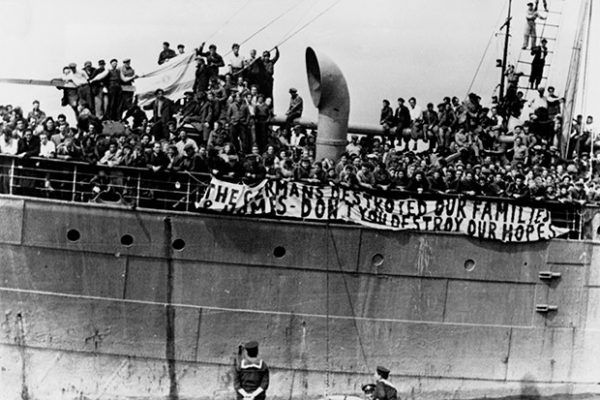 On April 9, 1948, more than 110 Palestinian men, women, and children were slaughtered in the once-prosperous village of Deir Yassin on the western outskirts of Jerusalem, according to Al Jazeera. In the militia attacks that followed, more than 700,000 Palestinians were forced to flee and approximately 15,000 were killed in what Palestinians refer to as the "Nakba," Arabic for "catastrophe." It's a formative event for Palestinian identity and has been observed annually in the years since it began, including by the United Nations for the first time in 2023.
Some have warned that the current Israeli offensive in Gaza, in which more than one million Palestinians have been told by Israel to flee, is amounting to a "second Nakba." Palestinians are being told to flee, but there is nowhere to go, they are blocked off from the world.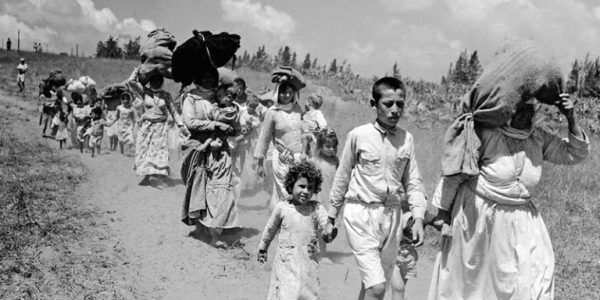 Furthermore, 13,000 Palestinian children have reportedly been forcibly detained, questioned, judged in military courts, and imprisoned since 2000, with an average of 500–700 imprisonments per year by Israeli occupation forces, according to reports from the UN and Al Jazeera.
In 2006, 2008, 2012, 2015, and 2021, Israel launched brutal wars on the 360-square-mile territory, resulting in a death toll surpassing 10,000, with over 75% being children and women. In recent events in Gaza, the Israeli military dropped more than 12,000 tons of explosives, equivalent to the power of the nuke dropped on Hiroshima with the rate of 33 tons of explosives per square kilometer. More bombs dropped in seven days than the entire year's U.S. bombing in Afghanistan.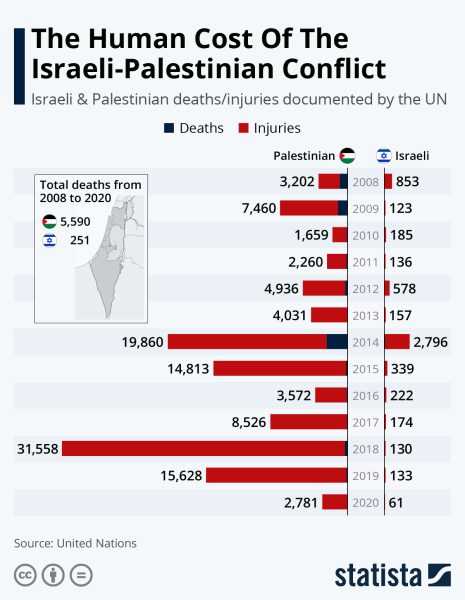 According to The Health Ministry, 10,022 people have been killed in Gaza, including over 4,100 children. More than 2,300 people are missing and believed to be buried under the rubble of destroyed buildings, as of November 8th. Recent attacks targeted a hospital, killing over 471 people, primarily women and children seeking refuge from bombings. According to UN experts, what's happening in Gaza is genocide, Palestinians are being ethnically cleansed, and Gaza is "becoming a graveyard for children," the United Nations chief says. However, in the West Bank, where Hamas is not present, there have been reports of incidents involving settlers and the Israeli Army. These incidents have raised concerns as they involve the kidnapping, stripping, and filming of Palestinians, which has become a disturbing trend. According to OCHA-OPT, 151 Palestinians, including 36 children, were killed, and 9,875 were injured in the occupied West Bank as a result of these actions. Despite these crimes, Western media continues to support Israel.  Pro-Palestinian voices are being censored, often with support from a world influenced by Zionists, resulting in a distorted image of oppressor and oppressed.
Israel is one of the only nations with specific websites blacklisting those who criticize them, which raises questions about its democratic values. People worldwide, representing various races and religions, have shown solidarity with Palestinians and voiced condemnation of the Israeli occupation. However, they have been silenced on many social media platforms. Facebook removed over 750,000 posts supporting Gaza, while Instagram banned accounts and used shadowbanning to hide posts related to Palestine or Gaza. 
With many people calling for a ceasefire, the UN voted in October 2023, a total of 120 countries voted in favor of the resolution, 14 countries voted against including Israel and the United States, while 45 others abstained. And like Malcolm X once said: "If you're not careful, the newspapers will have you hating the people who are being oppressed, and loving the people who are doing the oppressing." 
Links: https://www.aljazeera.com/news/liveblog/2023/11/3/israel-hamas-war-live-israeli-forces-gather-outside-gaza-city
https://www.un.org/unispal/document/human-rights-council-hears-that-700000-israeli-settlers-are-living-illegally-in-the-occupied-west-bank-meeting-summary-excerpts/
https://www.vox.com/videos/23942146/gaza-strip-palestinian-population-blockade