Dancing the Night Away at House of Blues!
Cypress's 2023 prom was held at House of Blues with the theme is Down In New Orleans, inspired by the Disney movie "The Princess and the Frog." Juniors and seniors had the opportunity to vote for the theme, with the other option Down the Rabbit Hole for the movie "Alice in Wonderland." 
The prom dance took place at House of Blues, a popular concert venue in Anaheim. It's located at the Anaheim Gardenwalk, an outdoor entertainment and shopping district known for its pretty views and fascinating shops. 
At 7:00, students began filing into the House of Blues, where there was music, refreshments, and appetizers waiting for them. The venue had two floors; the first floor was the dance floor along with seating, as well as an enclosed casino room for students to gamble or hang around with food and refreshments. Some popular gambling games among students were Black Jack and roulette.
On the second floor was the House of Blues Foundation Room, where there were couches and booths to lounge in and two photo booths.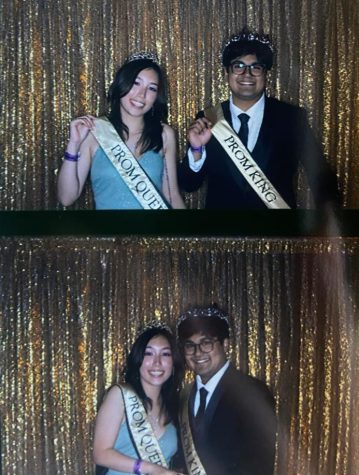 Near the end of the night, the DJ called everyone to the dance floor to announce the Prom Court winners. The nominees were Alex Torres, Gabby Tan, and Camille Williamson for queen, with Matthew Morrell, Elijah Gomez, and Omkar Katre for king. The audience on the dance floor cheered as Omkar Katre and Gabby Tan were crowned Prom King and Prom Queen, sharing a magical slow dance together. Tan says she had such a fun and wonderful experience, recalling the moment she was crowned queen. "I'm still on cloud nine. To be honest, I was really shocked because I couldn't hear my name over the cheering and thought it went to someone else… I almost had a heart attack when I turned around and I saw Mrs. Binford," she says. "It was a good kind of shock though! I'm grateful to everyone for making prom such an amazing night."
Senior Francheska Banzil made the most of her first and last prom by dancing with her friends and taking photos at the booths. "It fulfilled the prom experience that I always looked forward to as a kid," she said.
Prom is a once-in-a-lifetime opportunity for many, and the students made the most of their evening by dancing the night away and making special memories with their friends.