Medieval Times Raises Cyp Hype!
One of the highly anticipated senior events of the year is Medieval Times, which takes place this year on Monday, March 6th. The event is a district-wide senior event, meaning all high schools in the district will be attending. With so many students in one arena, it creates a chaotic and competitive atmosphere. Tickets were sold for $45, and the event included a catered dinner and a competitive jousting show. 
The doors of the event opened around 6:15, letting students gather with their friends and explore the lobby. There were options to buy an abundance of souvenirs, from tall cups to toy weapons that light up. At 7:30, students were led by servers in medieval clothing to the seating area, a huge arena surrounded by rows of seating. The noise in the arena was deafening since every high school in the district was showing their school spirit. Each section and school was represented by different colors: red, green, black and yellow, blue, and finally black and white, which represented Cypress High. Each color had their own trained knight who competed with other knights in good-natured rivalry.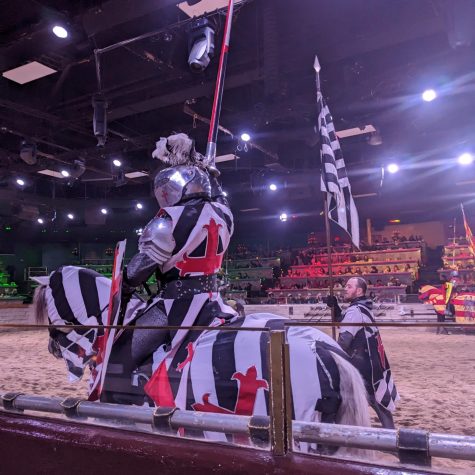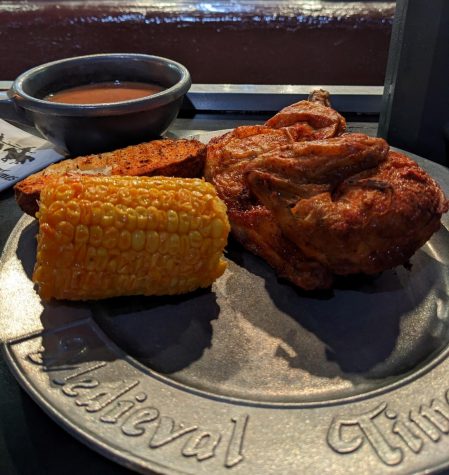 The food was served throughout the show in three courses: the first was garlic bread with tomato soup, the second was a roasted chicken entree with corn and a baked potato, and lastly, the meal finished off with a chocolate eclair.
As the students ate, the medieval show consisted of trained horses dancing to music, and a hawk flying above the heads of the crowd. 
The knights threw out flowers into the crowd, with students waving their arms scrambling to catch one. At the end of the show, each knight bestowed a ribbon to a chosen lady in the crowd. In the Cypress section, the ribbon was given to senior Alex McDevitt. "I've been to Medieval Times before and caught a flower, but this was the first time I got the ribbon," she said. "I was really surprised to get it and felt really lucky."
The part of the show with the most hype was the jousting and hand-to-hand combat. Each school was screaming for their own knight to win, yelling encouragements as they fought and booing when their knight lost. The energy in the arena was crazily unhinged, creating a chaotic and competitive atmosphere. Some seniors even lost their voices from yelling, and everyone left the arena in high spirits.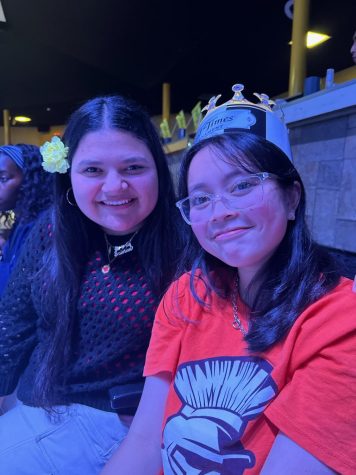 Senior Francheska Banzil's favorite part of the show was the jousting knights. "You could really feel the school spirit and Cyp hype," she said. "I kind of lost my voice, but I have no regrets. I was able to enjoy a great show and have a fun time with my friends and other seniors."