New Teacher Daniel Meza Advises Artists To Be Themselves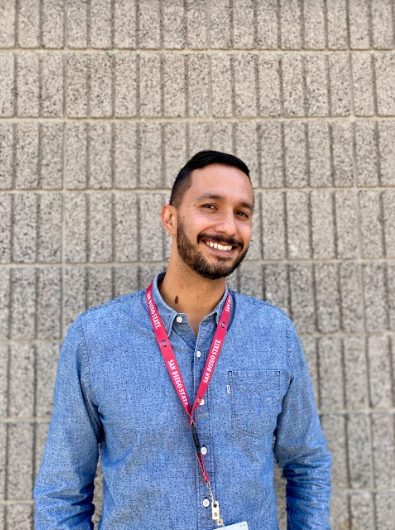 This year, a new art teacher began the next chapter of his teaching career in room 238. Now starting his 6th year of teaching, Mr. Daniel Meza is an aspiring, talented, and student-loving teacher who loves his family, inspiration, photography, and music. 
When he was little, Meza didn't know what he wanted to do. He tried different things and started to enjoy photography and visual art.
By becoming a photography teacher, Meza found his passion of teaching high school students. Teaching at his first school, Orange High School, made Meza realize that there is just so much that students can do, and there are so many little things you can teach them. The value of teachers helping to navigate students gave him the dream of becoming a teacher who can help high school students discover who they are through art.
"No one will ever be you again, and you are unique in everything that you do; the way to think, your opinions, the way you see the world, even your perspective," Meza said. "Everyone has a unique voice, and I think art allows you to express that in ways many may not get in any other way."
During his free time, Mr. Meza loves spending time with his two-year-old son Logan, and his wife, expecting their second son right before Halloween. Outside of this, he also does Brazilian jiu-jitsu, surfs, and even plays bass guitar for a teacher band! 
Now that he teaches art, Meza is starting to look at art differently and is advising young artists to be themselves. He believes that those who are truly being themselves, are the people who are the real trendsetters and tastemakers. 
"Really, do your own thing. And even if it is not the best right now, it will get better as you go," he advises students. He recommends a struggling artist to search Ira Glass The Gap online.
Meza is usually in his room teaching, drawing, and eating lunch with his students. Meza welcomes students to reach out to him, and is glad to help.