How Are Theme Parks Adjusting?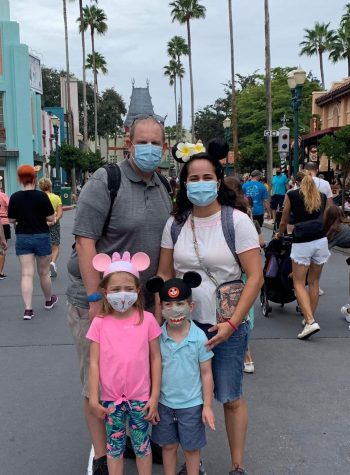 By Monica Badolian
Co-Business Manager
Remember those days when people could just be crowded all next to one another everywhere, especially amusement parks? Sometimes there would be no room to walk, and there would be long lines to get a churro and to use the restrooms. The fun was put to a halt when the coronavirus pandemic began, and many people have forgotten these feelings. Now, after seven months, many theme parks are thinking of opening, and a few already have. Each of these parks has been handling the situation very differently.
Starting with the famous Disneyland and California Adventure, the theme park was set to open on July 17, 2020, but got delayed. Although Disneyland is closed, the Downtown Disney District opened on July 9, and they are taking things very seriously. Before entering the District, people need to get their temperatures checked as well as stand six feet apart. Restaurants have separated their chairs and tables, and stores have put a maximum capacity limit on customers. Disneyland plans to open their restaurants and cafes inside the park so people may not be able to go on rides but will still get to enjoy tasty treats, sweets, and other savory foods.
Besides Disney in California, Walt Disney World in Orlando, Florida, has opened. The Magic and Animal Kingdoms have been open since July 11, and Epcot and Hollywood Studios opened on July 15. Former Cypress High student Rachel (Toyer) Aubrey recently visited Walt Disney World with her family, and had a few insights, "I feel like the Disney company did a very good job ensuring safety protocols. Masks were required the entire time, covering your nose and mouth. There was a lot of hand sanitizer available to use. The lines for rides were clearly marked with tape on the floor…There were also healthcare professionals taking temperatures before entering each park, and I didn't feel unsafe at all during our visit." Aubrey and her family had a safe and magical experience at Walt Disney World during this time, and she says, "I would visit again, absolutely, even the plane ride out to Florida (we live in Utah) I felt was properly handled." While the Aubreys were able to visit the Magic Kingdom, other theme parks are still not completely open.
There are currently no official plans for reopening Knott's Berry Farm's Buena Park theme park but fans of Knott's can visit the California Marketplace with offerings from Mrs. Knott's Chicken Dinner, Farm Bakery, and the Knott's Berry Market. Upon arrival, temperature checks, face masks, and social distancing are all required. So whenever there's a nice day, people can go out and enjoy these times. Apart from Knott's, Universal Studios Orlando is currently open at limited capacity and with additional guidelines in place like mask requirements, on-site hand sanitizer available, and social distancing, much like Walt Disney World. There are still limitations, so there can be no reservations made.
Although this year was not how most people wanted it to turn out, there are still chances to have fun and be safe. Whether travelling to Orlando or staying here at home, everyone is making sure to handle this time with caution and yet still have the most fun.
Former CHS Rachel (Toyer) Aubrey and her family at Disney World Photo Courtesy of Rachel Aubrey