As the girls tennis season comes to an end they have gone 13-2 so far. This season the girls tennis team has had the opportunity to compete against many other schools. 
 Couple weeks ago the girls tennis team won an intense match against Valencia High School. With the coaches undying support, their motivation grew stronger. The girls tennis team coach, Joseph Paul, said that something he says to motivate his players is  "…in life you always have to strive to win and you can't just accept to be mediocre. And for that you always have to put in the time and effort to practice."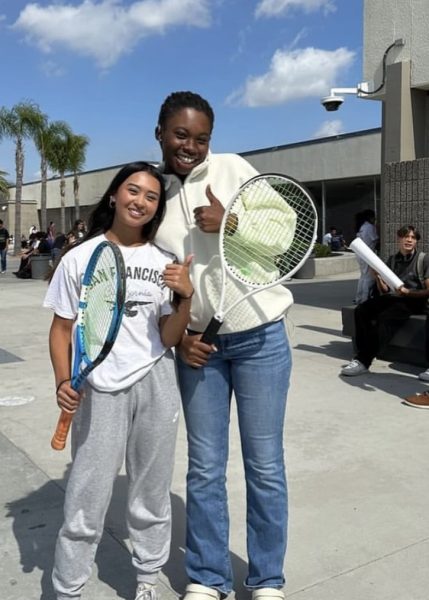 Captain Ifeoma Ibe, said that she doesn't like to put pressure on her teammates, "At the end of the day, I just remind them that this is just a high school match and just play your best." Ibe said the best thing about this team is "it is really nice how people allow me to make mistakes, and they trust me to guide them and how we never give up."
When Adrienne Baltazar, was asked about how she motivates her teammates as captain she stated, "as captain, I feel like when we are down during our games, I bring all the girls together, I hype them up by giving them little talks before our games and we also do a little cheer to help hype each other up." Baltazar stated that the best thing about being on this team is the people that she met throughout her four years on this team. 
While having fun, the girls tennis team practices really hard to win as many matches as they can. Coach Paul says "…this is just a game, and you should be out there having fun."  When asked how he improves his tennis players skills he said by "having high expectations for them."
Something that makes the Cypress Girls Tennis Team unique and makes them stand out from other schools is that the students here are competitive and they want to win.