Cypress High School has welcomed new teacher Daphne True to the English department.  True graduated from CSUF where she earned her Bachelor in English literature and her teacher credential.
True's passion for teaching started when she was a student, because she loved to read. In high school, English was her favorite subject, and when she graduated, she knew that she wanted to be a psychologist or an English teacher.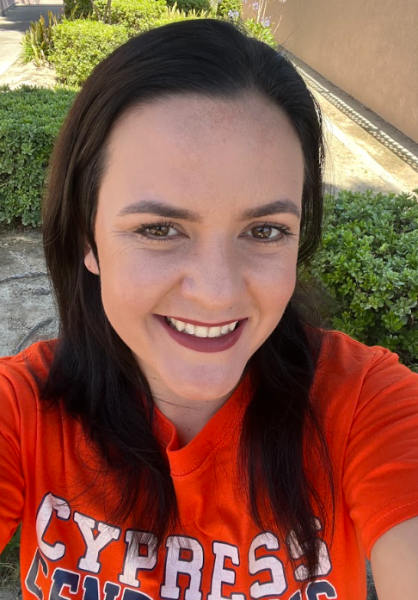 True was transferred this year from Kennedy High School due to lower student enrollment numbers. Since True has been here, she said, the faculty has been friendly and welcoming. The students have also been "amazing" in her English 1 and English 1 Honors classes. At her prior school, she taught ELD and English 2.  True says "It's a refreshing change" to be at Cypress.
"She is super nice and helpful and she makes learning super fun and in a way she relates to her students," according to freshman Kaimani Davis. 
Outside of school, True loves to spend time with her three cats, while watching TV and reading in her spare time. 
If she had a word of advice for new teachers she would say, "It's a difficult, but rewarding job. Be prepared to be busy all the time, to feel as if nothing is finished, and to make a lot of mistakes along the way. Nevertheless, I get to smile every day, laugh every day, and the actual teaching part doesn't feel like "work" to me."