Boy's Golf Wins Empire League Championship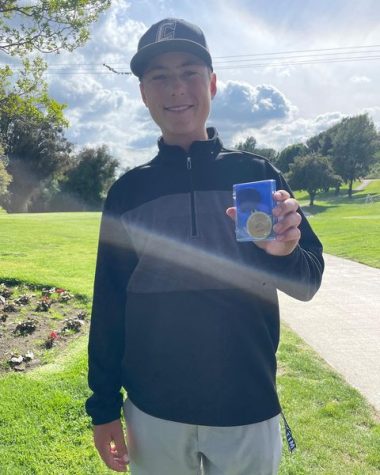 This season, boy's golf, with only one loss, tied for first in the Empire League. Golfers Nathan Yoo, Kaiden Desai, Ryan Slevcove, and Taylor Reser have progressed to league finals. The top boy's golfer, Ryan Slevcove, won the Empire League championship, earning the League MVP as the individual champion. 
Slevcove says that he likes golf because "it's so versatile, like there's a lot of different shots you can hit." Slevcove also says that it is unique because he likes "how every round's different." When Slevcove plays golf, he does good because he is so focused. He said that he just tries to "stay calm, take good shots." Slevcove was a former player for Cypress baseball and he says he "was progressing more in golf and made it pretty far during CIF," compared to baseball.
Ms. Metry, a former assistant coach, has been the head coach of boy's golf for two years at Cypress High School. Metry states that one of the reasons she coaches golf is because she has "thoroughly enjoyed working with the kids." She also says that another reason is "Seeing the talent level we have on the team." Something special that Ms. Metry says about boy's golf is that "There's some amazing young people we have out there that play extremely well. It's amazing to see them every day." 
Beginning May 8th, boy's golf is competing in the CIF Individual Regional.