Special Ed. Department: Specialized Programs in Action
Cypress High School has students with a wide variety of backgrounds and characteristics that make them unique. Diversity among students is a strength! Our school has a few programs geared towards meeting the needs of students with intellectual and/or developmental disabilities. We have two programs called Autism Focus and Life & Academic Skills 2 (LAS 2). The teachers and instructional aides help educate the students in a manner that best meets their learning needs. 
Some of the students in these programs enjoy interacting with their peers on campus! One of these students is freshman Matt Lucero, who enjoys spreading kindness to others and showing his appreciation toward his teachers. Matt also frequently walks around campus sporting his big smile and saying hello to all of his friends. 
One instructional aide is Kalan Jackson. Jackson enjoys working with Autistic  students because she loves to see "the world through their eyes." She started working with special education students in 2019 after having been a preschool teacher. Working with these students and her fellow co-workers has also helped her on a personal level. "It's really allowed me to grow as a person. I really enjoy my time with this group of kids," Jackson states. 
Mrs. Whiting, the teacher of our LAS 2 class, enjoys getting to know her students and learning about what makes them unique. Whiting's class focuses on functional, daily life skills, and her students take all of their academic subjects in her class. They also attend a general ed. elective and two years of PE alongside their peers. When students are in class, they work on skills that are not always covered in general education courses. Her classes' curriculum includes learning vocational skills, daily living skills, and community-based instruction to help students navigate their community efficiently and safely. 
The Autism Focus classes are taught by Mrs. Jackson. Her class differs from Mrs. Whiting's in that it is more academic in nature. What Jackson enjoys most about her job is "working with the students and seeing the progress they make and being able to see that they're out there and utilizing what is taught to them." She wants people to know that the students in her class "are very accepting of others, they want to have friends, they also want to fit in and be liked by others."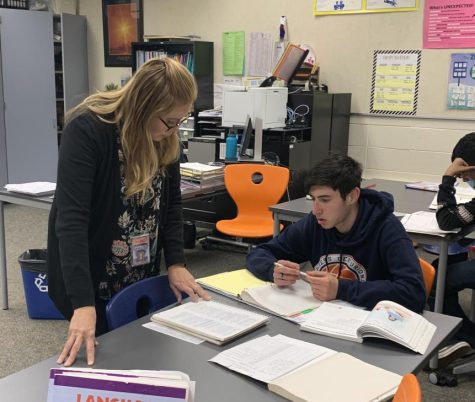 The specialized programs at Cypress demonstrate the importance of including all students, especially in social opportunities at school. Every student deserves the opportunity to learn at their own pace and build friendships with their peers. Not all students learn the same way, and these classes provide students with the support they need in order to reach their goals and have their best high school experience.