Football Headed To CIF Final Game!
Kicker Logan Kennedy Finds Third Time Is A Charm
Last Friday, November 18th, our Cypress Centurions defeated Newport Harbor 17-14 in the penultimate game of this spectacular undefeated season. The first quarter went by rather swiftly due to the lack of timeouts used and the running clock. Despite Newport Harbor scoring a touchdown early, Cypress defense was able to quell the attempt at the extra point, restricting the score at 6 for the time being. A few notable plays of the quarter included a defensive sack by Bruno Caldarella on the opposing team's quarterback and a sharp catch to secure a first down by Blake Cousimano.
The second quarter proved interesting as the opposing sides switched between offense and defense frequently. On the defensive end, Jesse Mauldin managed to deflect a pass and assist a sack. However on the offensive end, quarterback Aidan Houston successfully ran the ball a few times securing numerous yards and a first down. Towards the end of the quarter, Houston threw a lengthy pass to wide receiver Matthew Morrell, but it was rendered incomplete due to some hardy defense from Newport Harbor.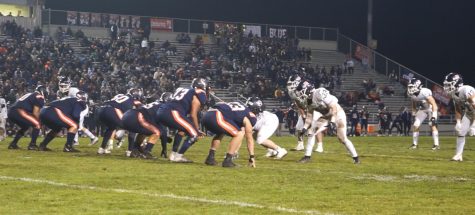 During the third quarter the intensity was increased, and our Centurions did well to match it. On Cypress's first on offense, Trevor Monteleone secured a first down, ultimately leading to the Centurions first touchdown by Morrell. The point after by Logan Kennedy put Cypress ahead 7-6. Throughout the quarter Houston was able to find paths through the defenders for yardage and a few first downs. On Cypress defense, end Rocco Burdett put up some formidable defense, making stops and executing important tackles.
The beginning of the fourth reminded the Centurions that the Sailors weren't going down without a fight as massive passes were executed, eventually leading to a touchdown and a two-point conversion, putting Newport Harbor ahead by seven, making the score 7-14.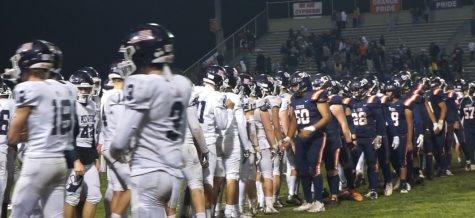 Cypress responded with a decisive first down by Houston and a miraculous touchdown by Matthew Morrell, tying the score up at 14-14. The Centurion defense didn't let up as Jacob Wilkie managed to tackle the opposing quarterback and later in that defensive cycle Cypress was able to sack the QB as well. 
As the clock whittled down, Cypress made a determined effort to score, as Monteleone secured a monumental catch, sending the Centurions into striking range. 
With nine seconds on the clock, Kennedy, despite an earlier miss, narrowly scored a field goal from thirty-six yards away. From there, the game was sealed, sending the Centurions to the CIF Finals.