Opening Night: The Brothers Grimm Spectaculathon
Cypress Theatre performed their first performance of the school year, The Brothers Grimm Spectaculathon on November 3rd and 4th. This unique play included fairy tales written by the Brothers Grimm themselves, combining 209 fairy tales into 11 acts. Some of the stories included Hansel & Gretel, Snow White, and Cinderella. Students from Theatre 1 and Theatre 2 came together to bring the play to life, with everyone having a role either onstage or backstage. 
The director of this play was Ryan Lee, a senior in Theatre 2. The two theater classes have been preparing for the play for weeks. Lee said, "I really enjoyed watching the play grow and unfold over the weeks of practicing and creating the play." A challenge about directing the play was matching the actors to their scenes. Since theatre is two periods, students had overlapping desired roles. "We had to group them according to scenes and class," Lee said. 
Senior Faith Dagarag's role was art director. She was in charge of overseeing set design, and also worked with their large collection of props while collaborating with other directors and the stage manager to make sure things ran smoothly.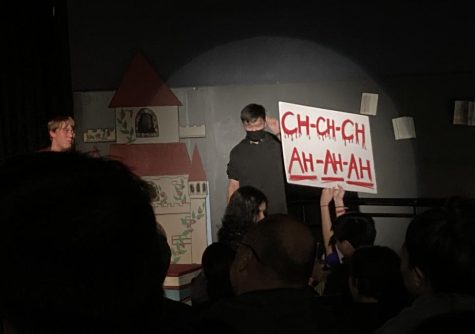 Though the opening night was naturally stressful for most of the students, the performance was really fun to watch. Something that made this play stand out from the others was how interactive the actors were with the audience. The actors instructed viewers to jump in with sound effects, holding up cue cards that directed them when to shout, whisper, or clap.
Another unique aspect of this play was the ASL interpretation. Over on stage left, ASL students (including teacher Ms. Winterton) interpreted the dialogue in real time.
The actors got a lot of laughs from the crowd, and it was cool to see how returning actors have improved from their experience and grown into their roles.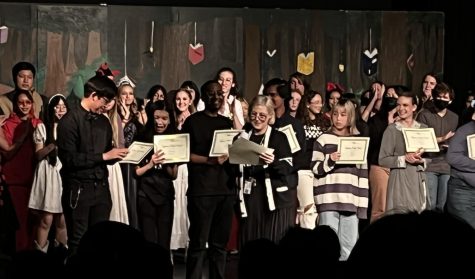 On the play's final showing, the returning Theatre students had a surprise waiting: Mrs. Stewart awarded them with their varsity certificates. These students had been in theater for two years, and finally being in varsity was a big accomplishment for them. "Becoming a member of varsity theatre made me feel like I was on top of the world!" Dagarag shares.
The final performance was a collective effort of all theatre students, and they worked hard to make their visions a reality. The play had a lot of praise from students, parents, and Centurion staff, and with good reason. Receiving the varsity title was a big milestone for the Cypress Theatre students, and all praise for The Brothers Grimm Spectaculathon is well deserved.