Spotlight Staff Savors Sweets
As the weather starts changing to fall, so do our taste in foods. There are many types of fall comfort foods and Cypress' very own Centurion Spotlight staff  has decided on which ones are the best during this cold weather.
One of the best fall recipes was the beloved cinnamon rolls. Everyone has been completely enamored by this delectable treat. Sophomore Juliana Dubois said, "Warm, fluffy buns of goodness that sweetly melt in your mouth into gooey perfection." This fall treat was rated a 10/10. Our staff recommends this desert any time of the day. This baked explosion of sweetness is definitely a fall favorite, you can even make them at home! Here is a recipe for a homemade recipe provided by Centurion Spotlight staff member Carly Pedroza.
Cinnamon Rolls
Ingredients
4 c. whole milk
1 c. vegetable oil
1 c. sugar
2 pkgs. Active Dry Yeast
8 c (plus 1 c extra, separated) all-purpose flour
1 tsp (heaping) baking powder
1 tsp (scant) baking soda
1 tbsp (heaping) salt
1 1/2 c. butter, melted
2 c. sugar
Cinnamon
Maple Frosting
1 (2 lb.) bag powdered sugar
2 teaspoons maple flavoring
1/2 c milk
1/4 c butter, melted
1/8 tsp salt
Instructions
Mix the milk, vegetable oil and sugar in a pan. Scald the mixture (heat until just before the boiling point). Turn off heat and leave to cool for 45 minutes to 1 hour. When the mixture is lukewarm to warm, but not hot, sprinkle in both packages of yeast. Let sit for a minute. 
Then add 8 cups of flour. Stir mixture together. Cover and let rise for at least an hour. After rising for at least an hour, add 1 more cup of flour, the baking powder, baking soda and salt. Stir mixture together. (At this point, you could cover the dough and put it in the fridge until you need it – overnight or even a day or two, if necessary. Keep your eye on it and if it starts to overflow out of the pan, punch it down). 
When ready to prepare rolls: Sprinkle the rolling surface generously with flour. Take half the dough and form a rough rectangle. 
Then roll the dough thin, maintaining a general rectangular shape. Drizzle 1/2 to 1 cup melted butter over the dough. 
Now sprinkle 1 cup of sugar over the butter followed by a generous sprinkling of cinnamon. Starting at the opposite end, begin rolling the dough in a neat line toward you. Keep the roll relatively tight as you go. Pinch the seam of the roll to seal it. 
Spread 1 tbsp. of melted butter in a seven inch round foil cake or pie pan. Then begin cutting the rolls approximately ¾ to 1 inch thick and laying them in the buttered pans. 
Repeat this process with the other half of the dough. Let the rolls rise for 20 to 30 minutes, then bake at 375 degrees until light golden brown, about 15 to 18 minutes.
Another great recipe that would be ideal for this cozy weather are snickerdoodle cookies. The Centurion Spotlight staff loved these cookies specifically due to their sweet yet not that sweet taste. They were absolutely delicious and the Centurion Spotlight staff rated these cookies a 9/10 overall. One of the staff members even said, "They cheer me up on bad days." According to our staff members, this treat should be eaten in the evening along with a cup of milk. Here is a recipe for a homemade recipe provided by Culinary teacher Eleni Karapoulios. 
.
Snickerdoodles- Pillsbury Recipe
Ingredients
1 ½ cups sugar
½ cup butter or margarine- softened 
½ cup shortening
2 eggs 
3 cups all-purpose flour or unbleached flour
2 teaspoons cream of tartar
1 teaspoon baking soda
¼ teaspoon salt
Ingredients for Coating Day 2
¼ cup sugar
2 teaspoons ground cinnamon
Directions Day 1
Cream together 1 & ½ cups sugar, butter and shortening
Add eggs after 5 minutes in a large mixer bowl.
Mix in separate bowl flour, cream of tartar, baking soda and salt.
Add Flour to the butter mixture and mix.
Refrigerate for a minimum of 1 hour or overnight.
Directions Day 2
Shape dough into 1 ¼ inch balls
Mix ¼ sugar and the cinnamon
Roll balls in cinnamon sugar mixture.
Place 2 inches apart on an ungreased cookie sheet lined with baking paper.
Bake for 8-10 minutes or until set.
Our staff also got to try and rate the classic fall treat which is pumpkin bread. This delicious bread will always bring joy to your life and a smile to your face, that is if you like pumpkins. This delectable bread will most definitely spice up your life and we got to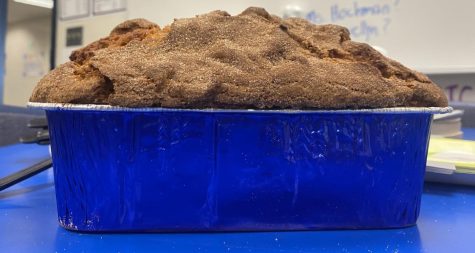 try it courtesy of Jayden Kay Linayao. One of the staff members said, "When I ate this bread, as soon as I bit into it I started to dance like a monkey because of how great the flavor was." The Centurion Spotlight staff members rated it a 9/10 overall and recommend eating it any time of the day. Here is a recipe for a homemade recipe provided by smittenkitchen.com.
Pumpkin Bread Recipe
1 15-ounce can (1 3/4 cups) pumpkin puree
1/2 cup (120 ml) vegetable or another neutral cooking oil or melted butter (115 grams)
1 2/3 (330 grams) cups granulated sugar
1 1/2 teaspoons baking powder
3/4 teaspoon fine sea or table salt
3/4 teaspoon ground cinnamon
Heaped 1/4 teaspoon fresh grated nutmeg
Heaped 1/4 teaspoon ground ginger
Two pinches of ground cloves
2 1/4 cups (295 grams) all-purpose flour
1 teaspoon ground cinnamon
1 tablespoon (12 grams) granulated sugar
Heat oven to 350 degrees F. Butter a 6-cup loaf pan or coat it with nonstick spray.
In a large bowl, whisk together pumpkin, oil, eggs and sugar until smooth. Sprinkle baking powder, baking soda, salt, cinnamon, nutmeg, ginger and cloves over batter and whisk until well-combined. Add flour and stir with a spoon, just until mixed. Scrape into the prepared pan and smooth the top. In a small dish, or empty measuring cup, stir sugar and cinnamon together. Sprinkle over top of batter.
Bake bread for 65 to 75 minutes until a tester poked into all parts of the cake (both the top and center will want to hide pockets of uncooked batter) come out batter-free, turning the cake once during the baking time for even coloring.
You can cool it in the pan for 10 minutes and then remove it, or cool it completely in there. The latter provides the advantage of letting more of the loose cinnamon sugar on top adhere before being knocked off.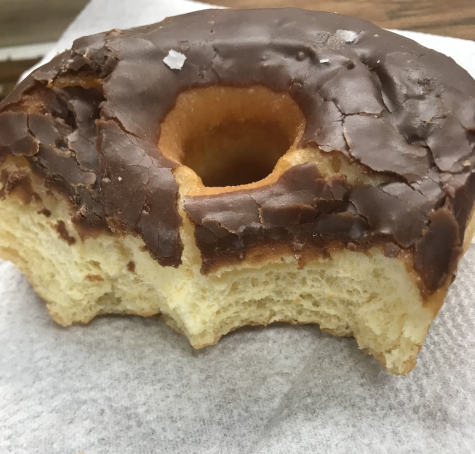 Cake is kept at room temperature as long as you can hide it. I like to keep mine in the tin with a piece of foil or plastic just over the cut end and the top exposed to best keep the lid crisp as long as possible.
One last fall treat that the Centurion Spotlight staff got to try were donuts. These fluffy, glazed treats were delicious and absolutely made everybody's day. Our staff rated this treat a 9/10 and recommended it in the morning as a breakfast option along
with some milk or coffee. One of our staff members even said, "Donuts put a smile on anyone's face."
The Centurion Spotlight staff absolutely loved to try all of these amazing treats and wish to do it again in the future. Make sure to try these delicious treats while the fall season is here and enjoy the recipes!