Halloween Costumes Come From All Places
When it comes to Halloween, people tend to get extremely creative with their costumes. However, it can be difficult to decide what you'd like to dress up as. In that case, there is no need for worries, here are a few costume inspirations for those struggling with ideas.
A classic, cutesy costume that can have colorful individualistic twists is Strawberry Shortcake or her friends. These characters have various fabulous outfits that one can pick and accessorize from their own creativity. Most of the characters' outfits have simple solid colors and patterns that can be styled with hats, scarves, or other jewelry. There are many variations of costumes that you can find or recreate from "Strawberry Shortcake" that will turn out cute and creative.
Popular costumes can be characters from "Winx Club," "Star Wars," "The Wizard of Oz," or "Teen Titans Go." They are classic Halloween costumes that can be seen practically every year. "Winx Club" features six fairies that have nine different transformations. With flashy, sparkly fairy outfits to elegant, flowy outfits, "Winx Club" has various areas of inspiration for teenage friend groups. Most people tend to dress up as a fairy from the first and original transformation with solid colors and small but gorgeous accessories.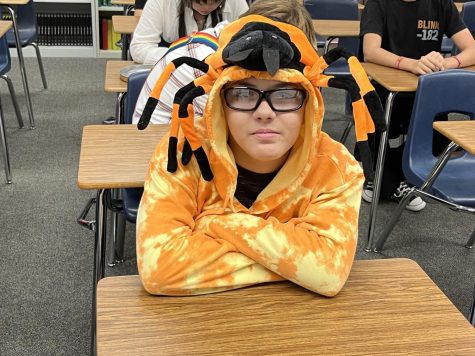 "Star Wars" has many different characters with varying outfits and personalities to match. With 12 movies and nine TV shows throughout the thrillingly epic saga of "Star Wars," people typically dress up as their favorite characters. The costumes of characters from "Star Wars" can fit groups of people, individuals, and partners. If one ever needs to look for classic and iconic costumes, "Star Wars" is most definitely the way to go.
"The Wizard of Oz" is a film with four main characters that groups or individuals know and love when it comes to selecting a Halloween costume. Dorothy, the Tin Man, the Lion, and the Scarecrow can be adapted into any aesthetic or simplistic outfits with creativity. The main five of "Teen Titans Go" have amazing outfits that many people enjoy dressing up as for Halloween. Robin, Starfire, Raven. Cyborg, and Beastboy are popular characters among all ages for Halloween costumes. The costumes can fit individuals, couples, and groups, not to mention there are other awesome characters from the show to dress up as.
Finally, there are costumes targeted for individuals that prefer dressing without coordinating with others. Such costumes include a favorite celebrity, a vampire, Bella Swan from "Twilight," Rory Gilmore from "Gilmore Girls," Emily from "Corpse Bride," Little Bo Peep, Marie Antoinette, Alice from "Alice in Wonderland," Blair Waldorf or Serena Van Der Woodsen from "Gossip Girl," a fairy, an angel, Coraline from "Coraline," Juliet Capulet or Romeo Montague from "Romeo and Juliet,"  Jack Skellington from "The Nightmare Before Christmas," Spiderman, a pirate, a ballerina, Ghostface, a character from Marvel's films, or a Greek god/goddess.
Dressing up as your favorite celebrity or social media influencer is an idea not many use. You can make your costume more original and a variation of the said person or more recognizable by others. Many people choose to dress up as a vampire to follow the spookier theme of Halloween. Vampires are more popular and can be styled in various ways with different outfits or fluidity for hairstyles and the level of intensity of the costume. Bella Swan and Rory Gilmore are less obvious costumes but can also be more recognizable depending on which outfit you choose from their huge wardrobe. Bella and Rory have more simple yet fashionable statements and are very popular among young teens. Emily from "Corpse Bride" has an extremely iconic and recognizable air surrounding the character's costume. Emily is yet another popular character a lot of people enjoy dressing up as. Little Bo Peep and Marie Antoinette are less popular compared to the previously named costumes but are equally elegant and captivating outfits. Those who would like to dress in a more lacy and elegant aesthetic usually prefer dressing as one of the two or Juliet Capulet from "Romeo and Juliet." Fairies and angels are also classic and well known costumes teens love. Much like the names, they are simple costumes that can be decorated with cute accessories that make the costumes more individualistic. Jack Skellington from "The Nightmare Before Christmas" is another perfect example of a traditional costume that you can see almost everywhere. With the classic pinstripe suit and skull face, Jack Skellington is a simple yet easily recognizable costume. Romeo Capulet is a less common costume worn during Halloween. With different styles of the young suitor's outfits, there is a wider range of costumes you can choose from. Two of the most common costumes seen over social media would be the iconic Spiderman suit or Ghostface. Made for any gender, both costumes can be worn by all and be recognized instantly. The suits are on many various shopping websites and are extremely popular among people.
All of the previously mentioned costumes are well-known and can be simple to style or find. Although costumes can be tricky to decide between, this list provides some that can be styled according to an individual's personal preferences or aesthetic.