Centurions Cruise Through the Homecoming Game Against Pacifica
This year's homecoming football game was filled with high tides and good vibes in the stands, as the Centurions cruised past the Pacifica Mariners with a winning score of 50-7. Eager students filled almost every seat at Handel Stadium to cheer on the varsity players. 
The 2022 Homecoming theme was Hang 10 Hoco based off of the 2013 Disney film series called, "Teen Beach Movie." Students dressed in their best tropical gear from head to toe to show their Centurion pride. 
"I think it's just very exciting. You've got the crowd there and it's a big week for the school. I love seeing the school spirit and the school pride," said senior wide receiver Matthew Morrell, "I have been playing since I was three or four years old. Watching it on TV and watching other teams play keeps me passionate about it and makes me want to play every day."    
During halftime, the Homecoming Court was announced to the crowd. Freshman princess Jayda Juanillo reflected on how it felt to be introduced on the field, "I felt really confident as I was walking down! I didn't feel any sort of panic as I was out there. It just felt really relieving once the stressful part was over." Juanillo continued, "It would be fun to do it again, however, I want to let everyone else have their chance to the crown…"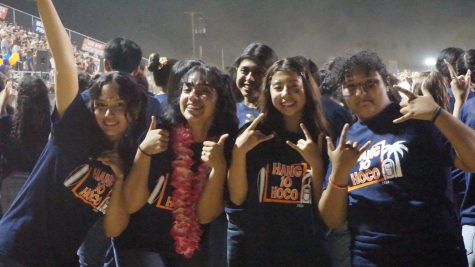 Cypress put on a great halftime show to entertain both sides of the bleachers. Stunning performers such as dance, marching band, pageantry, cheer, and song came out and performed for the crowd. This game marked the first appearance of marching band in their uniforms for the year. Freshman Jayden Vuong said the uniform can be " uncomfortable," but in the end he felt "cool."
There were over 200 dancers out on the field showing off their best moves during halftime. One of the freshman dancers, Daniela Vega, spoke about her experience dancing on the field, "I loved it! It was an amazing memory for me, and I wouldn't change a thing about it. It was a really great experience to interact with my friends and it's now a key memory that's a part of me." Vega also spoke about how she dances with such confidence, "I don't get nervous, I just get excited! The nervousness just goes away."
Players and coaches gave the Centurions another great win, and the team continues to be undefeated.