Senior Bowling Night Strikes Again
Cypress High's senior class had a blast at Senior Bowling Night on Monday, September 12th, 2022 at Bowlero Cerritos, where seniors got together and kick off their last year of high school.
At 6:30 PM, seniors were greeted with endless arcade games, snacks, and of course, bowling!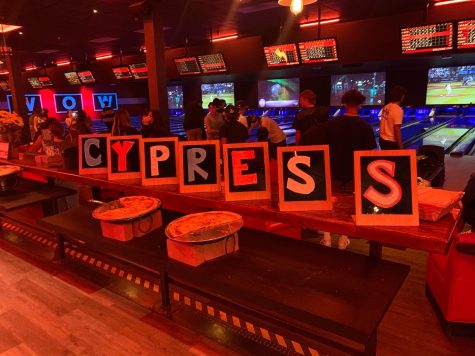 Senior Michelle Kraemer, described how she is most excited about senior year: "I'm most looking forward to graduating," she said, "and the dances and getting to buy a dress for it."
Senior Kallyn Kumagawa is also looking forward to graduating and seeing the payoff of all her hard work. Another senior, Miles Weber, explained how he wants to make the most of his senior year: "[I want] to finish strong and start applying [for college] and have fun with my classmates… it's the last time I'm really going to spend time with them," he said.
The exclusivity of this event made it an enjoyable and memorable one for Cypress' seniors. "I've been to other school-wide events, but this is pretty new since it's private and just for the seniors. So, there are more people I know and it's a lot cooler," said senior Christian Lopez. The seniors' unlimited access to games, food and bowling allowed them to personalize their evening. Isabella Williams explained how she and her classmates spent their evening, "We've been all over the place. We've been in the arcade and we've been doing bowling, too."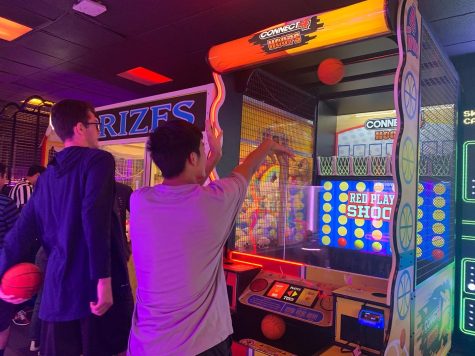 Along with other seniors, Francheska Banzil and Kaleia Magdaleno spent most of their evening at the arcade, while Vincent Heroux said he spent the majority of his time bowling with friends. This special event was an unforgettable experience for the seniors.
ASB's Senior Class President, David Chun, was also at the event. As Senior Class President, Chun took part in the planning of this big event. Chun explained why this event was chosen as the year's first, "Actually, the Senior Luau was supposed to be first but the vendors were out of town so we had to switch up the Senior Bowling with Senior Luau." In addition, he mentioned that this was his first time organizing a senior event.
Ms. Sarah Binford, ASB adviser, was also present during Senior Bowling Night. Along with this exciting event, she mentioned other fun events to come for the seniors. "The traditional Senior Luau will happen in November," she explained. "That's exciting because the Luau's been around since I was in high school at Cypress. The only other senior event that we have that's seniors only is Medieval Times, which is in March." Binford pointed out that the entire district takes part in the Medieval Times event. She concluded with a message to the class of 2023 by saying, "Enjoy your final year of high school… Have fun, be studious but have fun while doing that. This is a year that you're never gonna get back so take the moments as they come."
Senior Bowling Night was an unforgettable evening. The games, food and bowling made it a terrific experience for the seniors. Thanks to ASB, this event was made possible. The school will be planning more fun events to make the most of the seniors' last high school year.