Mr. Taylor-History Teacher and World Traveler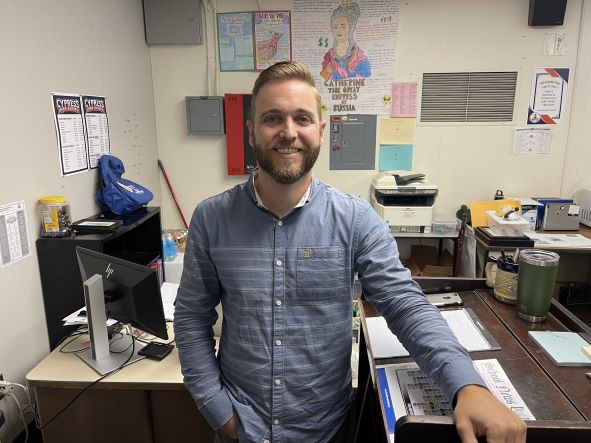 Mr. Brett Taylor is a teacher of five years who instructs juniors and seniors in US History and government at Cypress High School. His love of history stems from his rich passion for travel. "My love of history started when I began to travel the world," he said. He is passionate about traveling and revels in the historical value of foreign cultures. Learning about the history of new friends was the spark that ignited his love for history. 
Despite his enthusiasm for the subject, teaching is not his first profession. Mr. Taylor's original career was in business sales, but his dissolution from the profession led him to reconsider his current career for teaching. When asked about the change, he responded. "When my teaching journey started, it was after college. I didn't really know what I wanted to do, and as a result I wanted to live and work abroad like my brother, and I fell into living and teaching English in Korea-that was my first real experience with teaching in general." 
Taylor taught for a couple years in middle school before being encouraged to apply for a  high school teaching position; a longtime goal of his. He got the job and enjoys the community and atmosphere of Cypress. When asked about the new environment, he emphasized: "It's a great community that I'm happy to be a part of." 
After living in Korea for a year teaching English, Mr. Taylor moved back to the Orange County area where he originated. He graduated from El Dorado High School and attended Cal State Fullerton before ultimately getting his credential and Master's of teaching from Hope International University.