Wordle World Domination
The "Wordle" craze has swept the internet over the past couple months and has people sharing their results all over social media, with new variations of the game on the uprise.  Wordle is a daily word game where players have six chances to guess a random five letter word.  Players can share their results with friends, causing heated competition within the game.  Creator Josh Wardle initially invented the game for his wife who loved word games.  The game was eventually picked up by New York Times and is now a nationwide activity that players look forward to each day.  The game is only able to be played once daily, providing a new word at twelve A.M. nightly.
Since the increase in Wordle's popularity, new websites have begun creating their own variations of the mind bending challenge, trying to replicate the satisfaction of completing a daily puzzle.  Some of these games include "Quordle," a four word version of Wordle, "Heardle," where players guess songs, and "Framed," for movie lovers.  There is also a math game called ¨Nerdle," as well as ¨Worldle," in which players are given the shape of a random country and have to guess what it is.  Although these games provide some variety in the online word-game world, none have gained quite as much popularity as the classic Wordle.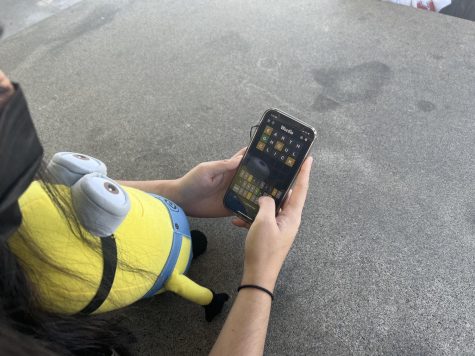 Cypress senior, and avid Wordle participant, Olivia Weber, states, "I like the challenge and…beating my friends' scores."  Weber plays the game regularly, though not every day due to a busy schedule.  She says the game gives her a "sense of accomplishment" when figuring out the word, and something to look forward to every day.  English teacher Ms. Pamela Lightner enjoys playing the game for the puzzle, and it reminds her of a game she used to play called Mastermind.  "That was a nice similar memory for me, I like those puzzle type games," she explains.
A recent game of Wordle had many competitors confused, as the answer to the puzzle was changed in the middle of the day.  On Monday, April 9, 2022, the word was originally supposed to be "fetus," but was changed to "shine" due to the recent Roe V. Wade controversy.  Similar events have taken place in the past, such as a glitch where players were getting different words as their answers.  This may pose the question: is Wordle a reliable game?  These mistakes don't seem to phase many Wordle players, however, as the game continues to maintain loyal supporters and participants.