Centurion Baseball Makes History
The Cypress baseball team won the National Classic on April 7, 2022, for the first time in Centurion history.  They are currently 17-3, and have been preparing for their final three league opponents – Crean Lutheran, Pacifica and Tustin, their League Championship opponents.  The tournament began the week of April 11, as the Centurions played Tustin on Tuesday and Crean Lutheran on Wednesday and Thursday.
Coach John Weber was recently surprised by his players to discover that he hit a milestone of 350 wins as a coach.  Weber humbly explained that he doesn't coach for the satisfaction of winning or hitting milestones, he is rewarded by watching them evolve– "not by the wins and losses, but by the growth," he said.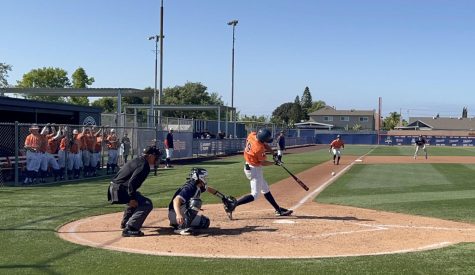 In a recent game against Pacifica on April 20, Cypress won 4-3.  The team has worked extremely hard to finish out the season on a strong note, and the players along with the coach feel confident about the season thus far.  Varsity outfielder and pitcher, Matthew Morrell, states he wouldn't change anything about his junior season.  He stated, "the losses made us grow and were good for us," helping the team improve their chemistry.
Cypress beat South Hills 1-0 on Tuesday, April 5, with freshmen Wyatt Rosales and John Short pitching.  Weber expressed the fulfillment of watching two freshmen evolve and "develop in the moment."  Morrell stated that Coach Weber constantly preaches to his players to "be in the moment and not really think ahead or look behind."  Morrell feels like he would be a completely different player without Coach Weber, as Weber has helped him with the mental part of the game.