Spotify Wrapped 2021
On December 1, Spotify released their highly anticipated Spotify Wrapped which recaps the artists, songs, and genres that defined users' 2021. The data was collected between January 1 to October 31 for their 381 million users.
Wrapped takes users through a 13 part story they can share on social media to show others their top 5 favorite artists and songs. The story includes users' Audio Aura which describes their music moods, their most streamed songs and the amount of minutes they listened to it, and a game of two truths and a lie about users' listening habits. At the end of the Spotify Wrapped, it creates a custom playlist of users' top 100 most listened to songs of the year.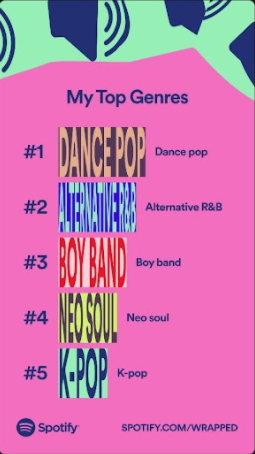 According to Fortune, the top five artists globally were Bad Bunny, Taylor Swift, BTS, Drake, and Justin Bieber. The top five most globally streamed songs were "Driver's License" by Olivia Rodrigo, "Montero (Call Me by Your Name)" by Lil Nas X, "Stay" (with Justin Bieber) by the Kid Laroi, "Good 4 U" by Olivia Rodrigo, and "Levitating" (feat. DaBaby) by Dua Lipa. The top five most popular podcasts globally were The Joe Rogan Experience, Call Her Daddy, Crime Junkie, TED Talks Daily, and The Daily.
Senior Maddie Repcik listened to music for 33,255 minutes this year with her favorite artists being Taylor Swift, 5 Seconds of Summer, LANY, All Time Low, and Olivia Rodrigo. Her top genre was Dance pop and her favorite songs were "drivers license," "no body no crime," "betty," "traitor," and "All Too Well." Senior Kiersten Canero's top genres were Dance pop, Alternative R&B, Boy band, Neo soul, and K-pop.
This year's Spotify Wrapped exceeded people's expectations and was more interactive than ever before!