Halloween Makes a Comeback After COVID
Halloween is coming up, and in a recent survey of over 100 Centurions, students revealed much holiday information, including how much they are going to spend on their costumes and what their favorite candy and movies are for the spooky holiday season. 
Exactly 51.8% of students said they are going to spend over $10 on their costumes this year. Also, 24.8% of the students decided to make homemade costumes. A smaller amount, 8.5% of students, are buying their costumes for $5-$10. Finally, 14.9% of the students are buying their costumes for 0 to $5.
It is no surprise that students are making homemade costumes because of the time during quarantine. Some people during quarantine learned to be crafty and learned how to make their own costumes and save money by not going to the Halloween store to spend money on a costume. Many students however decided to spend money on costumes to save time and get the coolest costumes.  A small number of students are spending $5-$10 on costumes. It is a great way of saving money and saving time. Finally a decent amount of students are buying costumes for $0-$5 making their costume really cool but at the same time simple and money saving.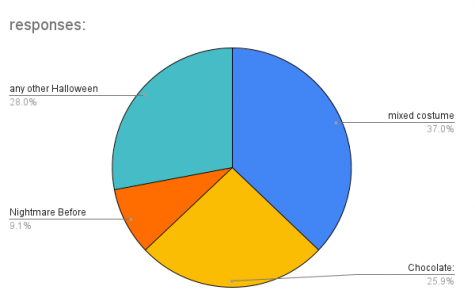 Of course, many people like to eat candy on Halloween, especially after trick or treating! Our survey revealed that the most popular candies for Cypress students include Reese's, Kit Kat, and regular old candy corn or anything chocolate. When it comes to movies, by far, students in the survey said they like to watch "The Nightmare Before Christmas" on Halloween night to celebrate the holiday. 
There might not be enough gatherings this Halloween due to Covid-19, but with a good costume and a good sugary treat, this Halloween will be as good as any holiday.