Quarantine Self Care
About a year ago, our lives changed due to COVID – 19. During these times, the virus has put limits to our everyday schedule. Some people don't go to school campuses, to work, to the gym, to the park, to the beach, to anywhere because of the restrictions. During these tough times, our society has been divided and stressed out looking for better ways to be strong through this pandemic. There are many ways to stay mentally, physically, and emotionally positive. Self Care can be in any form of appreciation for yourself. 
Pick Up a Puzzle! – Starting off with building puzzles and getting ones with thousands of pieces is a great way to keep your mind busy and thinking while putting beautiful pictures together. 
Draw a Sun – Learning to draw, sketch, paint, or even color is such a great hobby. You can learn more about your creative side as you express yourself. Art is what you make it!
Write Your Days – Talk about your days in a Journal or Diary, or even in the Note app of your phone! It is a great way to vent during these times, especially when you have things on your mind or chest.
Feed Your Imagination – A great book could make your imagination come to life. Reading a short story or a well developed chapter book could really wake your mind up. Or you could simply buy a Recipe Book and literally feed your mind. Learning new recipes or ways to cook is something great to take up. 
Streeetttchhhh! – Doing at least a hour of Yoga or meditation is such a help. Get off of your bed or couch and touch the ceiling, some of us are 4'11 so we at least try! This is a great way to keep your blood flowing, making your body feel in tip top shape. Mrs. Fawley, a teacher at Cypress Highschool, has been doing yoga for 5 years and loves it! She said, "I have been doing yoga mostly weekly (sometimes a little more frequently, sometimes a little less) for almost five years.  I started because I wanted to improve my balance and flexibility.  What I found was that it was also incredibly relaxing.  After an hour of yoga I feel refreshed and not tired."
Listen to a New Playlist – Ask your friends, siblings, cousins, or even parents what their favorite song, artist, or group is and expand your music taste. Music can motivate you and open new doors!
  Eat Healthy – Ditch junk food and consume something better for your body, if it has way too many ingredients, your body doesn't need it.
Keep in Touch – Hanging out with close friends or family hasn't been easy due to COVID, so message, call, or video chat everyone once in a while and hope everyone is well!
Grow a Green Thumb! – Learning to grow plants, fruits and vegetables can be relaxing and extremely rewarding. Having beautiful nature surrounding you feeds your positive vibes. 
Refresh and Replenish – Doing a simple face mask or bubble bath can be so relaxing and calming for your nerves. 
Exercise at Home – As boring as it may sound, getting in a hour a day of workouts is great for your body. Giving you more energy and the feeling of strengthening your muscles is beneficial and rewarding. Do some push ups and get your squats in throughout the day, which also keeps stress away!
Keep up Those Positive Thoughts! – Find your motivation and keep those negative thoughts away. Keep working hard during this pandemic, the hard work will pay.
There are many wonderful and beneficial ways to keep your body, mind, and emotions positive during these hard times. Mrs. Fawley mentioned, "My advice is that setting aside a few minutes (at least) a day to do something that you enjoy even if it is not the same way as you would have done it before the pandemic.  Sometimes it feels like there is no time to do that.  In fact, when you return to your to do list, you will likely be more productive and have a more positive mind set." Doing some sort of Self Care for yourself is extremely important. Self Care can be in any form of appreciation for yourself. Don't burn yourself out working too hard with what stresses you out, calm down, relax, drink tea.
About the Writer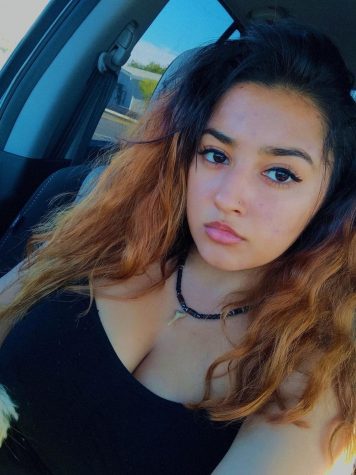 Nevaeh Rangel, Staff Writer
Hey, I'm Nevaeh Rangel, a senior that loves bringing my creativity into the world. Joining Journalism has helped me put my thoughts into words, and even...