Girls Varsity Tennis Team Serves Ws!!
Ye Ji Jong, Assistant Editor, Opinion Editor, Layout Editor
May 21, 2021
Cypress High School's Girl's Varsity Tennis team has been serving W's this season. Not only were they League Champions, but they've also made it to CIF Semi-Finals! 
Senior Charlize Panganiban,  Singles Captain stated, 
"It feels surreal, almost like a fever dream. At some times I still feel like this has been a prolonged junior year due to the pandemic. I am still very grateful that athletics, more so tennis, has been able to have to open up and have a season. With this being my last season, it has made me appreciate the game more and all the moments spent with my teammates. I am proud of us for winning League again. I am also proud of us for making the quarterfinals of CIF, something that hasn't been done for girls tennis in six-seven years." 
Despite the victorious season, the team will have to say a few goodbyes to their seniors, who had a few words they wanted to tell the team. 
Joyce Koo, a Senior and Doubles Captain stated,
"As a graduate, I would just love to see them improve. Having seen the improvement in the underclassmen in our varsity team this year, I am excited to see how much more our team would improve with new teammates."
Jueun Park, a Senior and Doubles Captain told Journalism, 
"Something I want to tell the incoming varsity members is to play a team game. Tennis isn't a traditional team sport like basketball or football. We have multiple games going on at once so the thing that kept us going were the cheers from the members who weren't playing. I struggled with this mindset a lot. When I was on the court I switched on my tennis gears and played but when I got off the court, I shut down. I want every member of the incoming varsity members to play to the best of their abilities on court and cheer/support to the best of their abilities off court. One thing I'll miss about Cypress Tennis is the team. Sounds very very cliche but I wouldn't have traded a single person out for anyone in the world. We supported each other, comforted each other, and most definitely we knew how to push each other. One thing I won't miss are the short but intense conditioning after practices. Another thing I'll miss is the safe and comfortable environment that we created. I loved everything about my team that I've been with for four years now." 
Good job to all the girls and wish them good luck on their CIF Semi-Finals!
About the Writer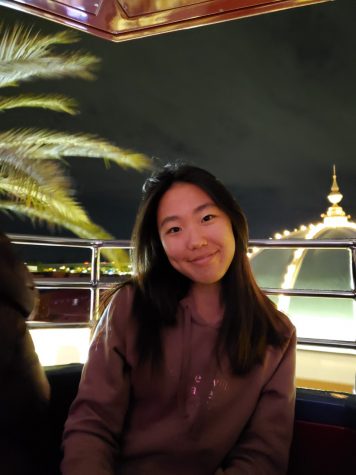 Ye Ji Jong, Assistant Editor, Opinion Editor, Layout Editor
Hi! I'm Ye Ji Jong. I am the Assistant Editor, Opinion Editor, and Layout Editor for the Centurion Spotlight and currently a Junior at Cypress High. I...